Individual "custom-made" oral appliance
SomnoGuard® SP Pro
What is SomnoGuard® SP Pro?
SomnoGuard® SP Pro is a two-piece mandibular advancement device for the treatment of snoring and mild to moderate obstructive sleep apnea (OSA), which is associated with breathing stops at night. The "custom-made" oral appliance is individually made in the dental laboratory. Two connectors of the same length connect the upper and lower jaw trays to each other laterally.
In the case of pathological snoring in connection with a diagnosed obstructive sleep apnea, reimbursement by health insurance companies is possible.
Characteristics
Individual manufacture in the dental laboratory
Mandibular advancement accurate to the millimeter; choice between 2 connector variants (with and without screw)
Mouth breathing and slight mouth opening possible
Very comfortable to wear
Secure fit and very good tooth adhesion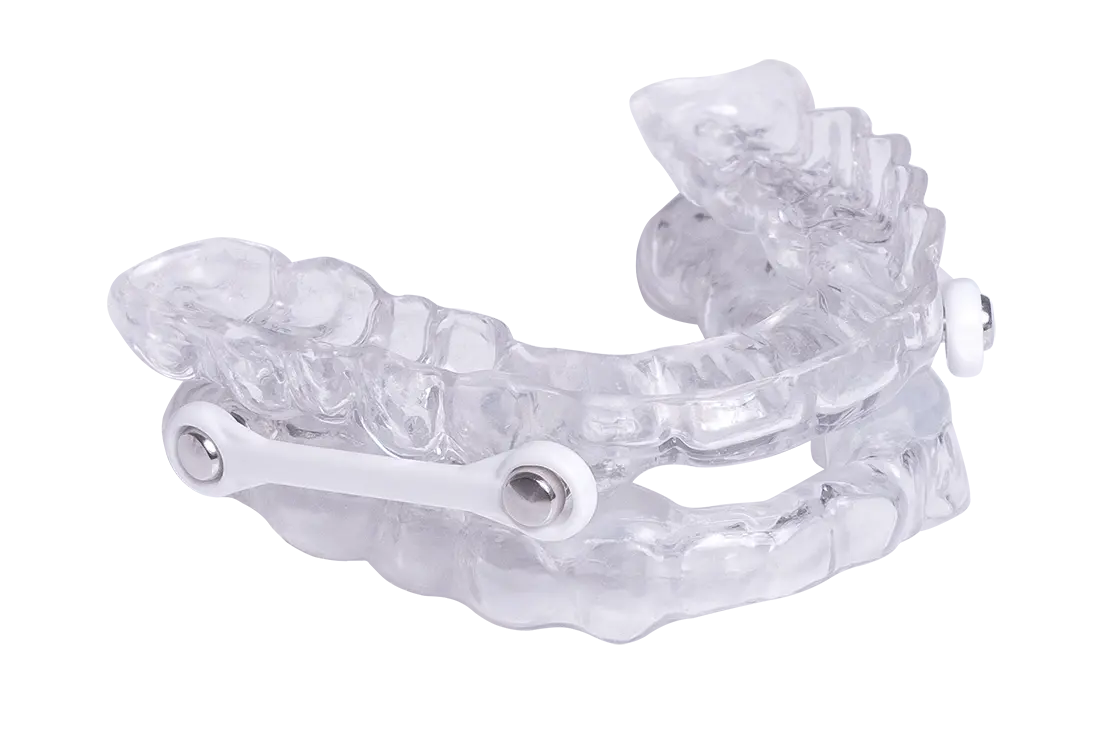 How does SomnoGuard® SP Pro work?
SomnoGuard® SP Pro is worn in the mouth at night. With the help of two side connectors, the two-piece oral appliance holds the lower jaw with the tongue slightly forward, thus opening the upper airways. As a result, the vibration and fluttering of the soft tissue (soft palate & uvula) and thus the typical snoring noise can be reduced or prevented.
Where can you buy SomnoGuard® SP Pro?
Dentists and dental laboratories can order the functional elements made of stainless steel for the production of the SomnoGuard® SP Pro oral appliance directly from us by telephone, fax or e-mail. Are you a patient and interested in the SomnoGuard® SP Pro? Then contact your dentist!
Manufacturing and adjustment
How is SomnoGuard® SP Pro manufactured?
The SomnoGuard® SP Pro delivery includes: four fixation knobs and wires made of stainless steel, two screw connectors, a connector set (connectors without screws in the lengths 23 - 32 mm), open-end wrench, instructions for use and manufacture.
After a dental impression is taken by a dentist, SomnoGuard® SP Pro is manufactured in the dental laboratory using the functional elements and common processes and materials. A plaster model is constructed. Hard-elastic trays for the upper and lower jaw are deep-drawn using the compression molding technique. Finally, the functional elements are attached to the trays with acrylic adhesive.
How is the advancement of the lower jaw adjusted?
The upper and lower jaw trays are connected to each other by lateral connectors and the lower jaw advancement is adjusted with millimeter precision. The pack includes two screw connectors as well as a connector set (connector without screws). It is advisable to start the therapy with the screw connectors and - once the optimal advance has been determined - to use the connectors from the set for long-term use. SomnoGuard® SP Pro allows mouth breathing and a slight mouth opening. Depending on the extent of the set lower jaw advancement, the upper airways are more open. Snoring and nocturnal breathing stops as a result of obstructive sleep apnea can be reduced or prevented in this way.